ZERO CARB METAPURE
Gratis verzending vanaf €30
Vandaag besteld, vandaag verzonden
Metapure Zero Carb wordt uitsluitend gemaakt van ultrafiltrerend wei-isolaat dankzij het hoogwaardige fabricageproces bij zeer lage temperaturen. Dit product is vrij van koolhydraten en bevat bijna geen lactose en is bovendien zeer licht verteerbaar.
Metapure Zero Carb is het perfecte product voor professionele atleten, maar het is ook de ideale bondgenoot voor amateurs die hun spiermassa willen ontwikkelen of behouden. Het hoge gehalte aan BCAA's, dat van nature aanwezig is, helpt het herstelproces na inspanning te versnellen.
HET PUURSTE WEIPROTEÏNE-ISOLAAT OP DE MARKT! 
METAPURE ZERO CARB WHEY ISOLATE
Metapure Zero Carb bevat uitsluitend wei-isolaat. Dit type wei bevat proteïne in zijn puurste vorm en van een veel hogere kwaliteit dan traditionele wei.
De biologische waarde is hoger dan die van geconcentreerde wei, met meer dan 90% eiwit (in droge vorm). Daarnaast bevat deze wei vrijwel geen lactose en nog minder vet of koolhydraten. Het is daarom ideaal voor mensen met lactose-intolerantie en voor mensen die geen traditionele wei kunnen consumeren.
METAPURE WHEY PROTEIN ISOLATE EN ZIJN BCAA'S IN HOEVEELHEID
Met meer dan 20% vertakte aminozuren (BCAA's) helpt Metapure Zero Carb bij snel herstel na intensieve inspanning. De aminozuren die in dit product aanwezig zijn, zijn de 3 essentiële: L-Leucine, L-Isoleucine en L-Valine, die niet door het lichaam zelf kunnen worden aangemaakt. Ze moeten via voedsel worden ingenomen. Ze zijn vooral nuttig voor spierversteviging, spieronderhoud en spierherstel.
METAPURE ZERO CARB CONSUMEREN VOOR OF NA DE TRAINING?
Metapure Zero Carb kan u consumeren wanneer het u uitkomt. Voor de training, om ervoor te zorgen dat uw lichaam de voedingsstoffen heeft die het nodig heeft om te presteren. Of om je na je sessie te voorzien van eiwitten en aminozuren aminozuren om te helpen herstellen en om spiermassa op te bouwen.
METAPURE ZERO CARB GESCHIKT VOOR NIET-SPORTERS ?
Metapure Zero Carb helpt bij het behouden van stevige spieren en kan ook worden opgenomen in een dieet voor gewichtsverlies. Metapure Zero Carb maakt uw dagelijkse leven lichter.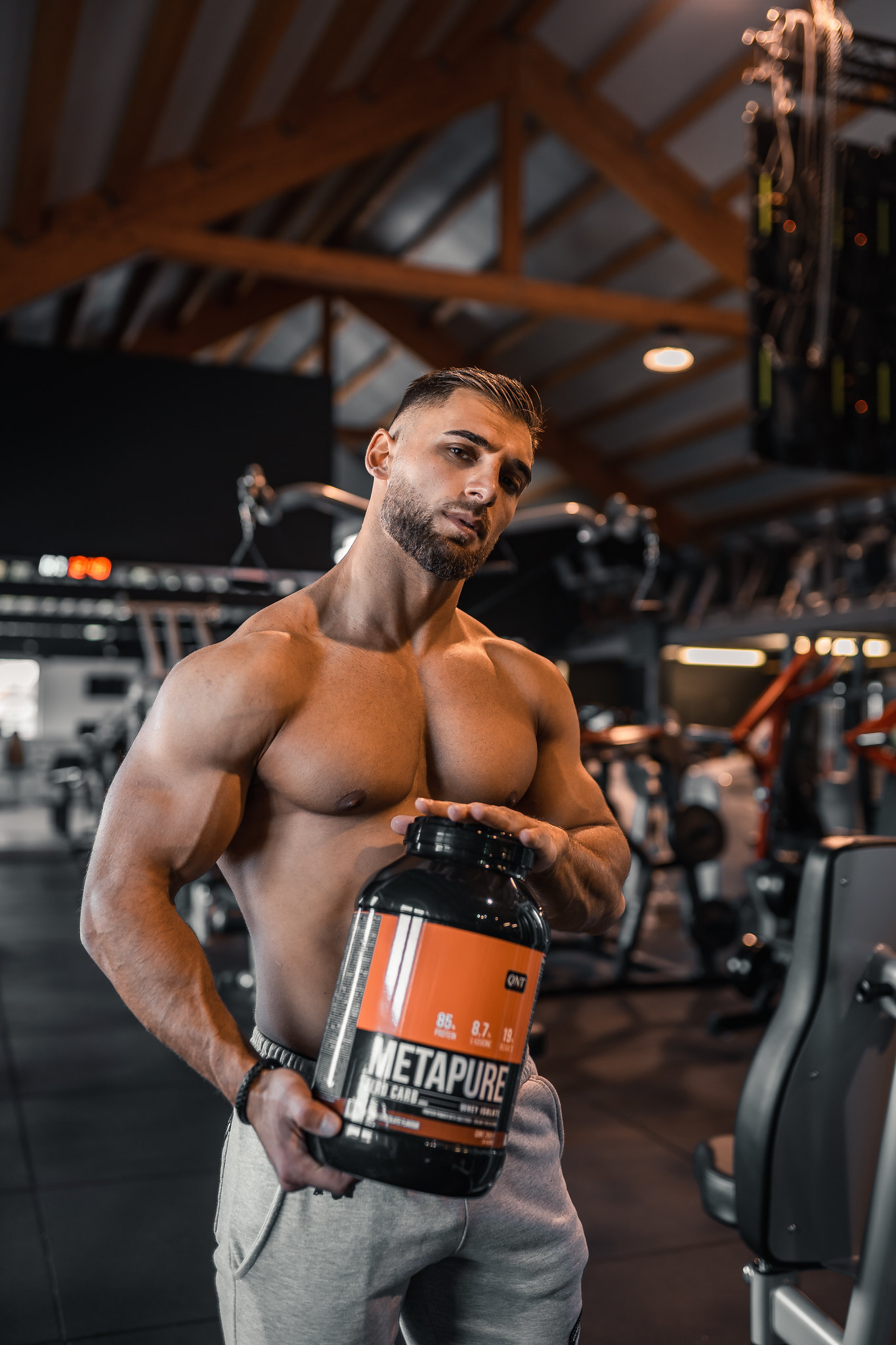 METAPURE WHEY PROTEIN ISOLATE: EEN RUIME KEUZE AAN SMAKEN
Metapure Zero Carb is verkrijgbaar in 12 heerlijke smaken: Banaan, Snoep, Belgische Chocolade, Witte Chocolade, Citroen-Meringue, Kokosnoot, Aardbei, Aardbei-Banaan, Stracciatella, Tiramisu, Vanille en Yoghurt. Iets om aan al uw wensen te voldoen!
DISCLAIMER
Fabrikanten kunnen af ​​en toe hun etikettering wijzigen. De werkelijke product etikettering kan aanvullende informatie bevatten en / of afwijken van de informatie die op onze site wordt getoond. Lees altijd de informatie, waarschuwingen en gebruiksvoorwaarden op het etiket of de verpakking voordat u een product gebruikt of consumeert.
Wij doen zorgvuldig ons best de bestelling zo spoedig mogelijk bij u af te leveren. Bestellingen die op werkdagen vóór 15:00 worden gedaan, Leveren wij binnen de 3-5 werkdagen. Niet altijd lukt het ons echter om dit na te komen, soms zijn producten niet voorradig en dan kan de levering van uw bestelling iets langer duren. Op de productpagina staat een indicatie van de levertijd. Mochten wij om wat voor reden dan ook deze levertijd niet halen, dan brengen wij u hier natuurlijk zo spoedig mogelijk van op de hoogte.
De vermelde prijzen zijn exclusief verzendkosten. De verzendkosten bedragen:
€3,95 voor bestellingen onder de €30,- ( België )
€4,95 voor bestellingen onder €30,- ( Nederland )
Gratis voor bestellingen vanaf €30,-
Retourneren
U heeft het recht uw bestelling tot 14 dagen na ontvangst zonder opgave van reden te annuleren. U heeft na annulering nogmaals 14 dagen om uw product retour te sturen. U krijgt dan het volledige orderbedrag inclusief verzendkosten gecrediteerd. Enkel de kosten voor retour van u thuis naar de webwinkel zijn voor onze eigen rekening. Indien u gebruik maakt van uw herroepingsrecht, zal het product met alle geleverde toebehoren en - indien redelijkerwijze mogelijk - in de originele staat en verpakking aan de ondernemer geretourneerd worden. Om gebruik te maken van dit recht kunt u contact met ons opnemen via info@fitstar.be. Wij zullen vervolgens het verschuldigde orderbedrag binnen 14 dagen na aanmelding van uw retour terugstorten mits het product reeds in goede orde retour ontvangen is.
Uitzonderingen retourneren
Producten die voldoen aan een of meer van de volgende punten kunnen niet geretourneerd worden:
a. Bij verzegelde producten. Wanneer de verzegeling verbroken is zijn bij deze producten niet retourneerbaar.
b. die door de ondernemer tot stand zijn gebracht overeenkomstig specificaties van de consument;
c. die duidelijk persoonlijk van aard zijn;
d. die door hun aard niet kunnen worden teruggezonden;
e. die snel kunnen bederven of verouderen;
f. waarvan de prijs gebonden is aan schommelingen op de financiële markt waarop de ondernemer geen invloed heeft;
g. voor losse kranten en tijdschriften;
h. voor audio- en video-opnamen en computersoftware waarvan de consument de verzegeling heeft verbroken.
Garantie
Garanties worden bij ieder product afzonderlijk vermeld. Mocht dit niet het geval zijn dan kunt u voor meer informatie gerust contact met ons opnemen.
Identiteit ondernemer
Impacked
Hippodroomlaan 9, 9040 Gent, België (Geen bezoekadres)
+32487336042
Ondernemingsnummer: 0764715138
Btw-identificatienummer: BE0764715138